by Marrin Scalone, LUV Editor
"Make sure you've experienced transformation yourself first. How has what you've learned changed your life? Because that's how you connect. When you're able to share your own stories, that's when you're in a place to create transformation for others."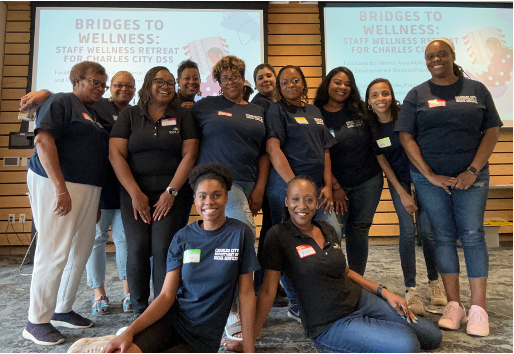 Yolanda Hall's LUV Story
"Make sure you've experienced transformation yourself first. How has what you've learned changed your life? Because that's how you connect. When you're able to share your own stories, that's when you're in a place to create transformation for others."
When Yolanda Hall sat down to attend her first training on Adverse Childhood Experiences, she had no clue she was embarking on a journey that would change her life.
Yolanda is a Prevention Coordinator at Henrico Area Mental Health Prevention Services, a mindset coach, and a powerful thought leader in the realm of ACEs, trauma, and resilience. What began as a career in school counseling has bloomed into a personal & professional devotion to family-centered healing, and guiding people to reclaim their life stories.
When she first heard about ACEs (Adverse Childhood Experiences), a chord struck within her that demanded her attention. By investigating her own past with curiosity, self compassion, and permission to feel, Yolanda soon understood ACEs far beyond a presentation or any certification. She began to notice the patterns within herself, her family, and her community in which trauma and toxic stress were embedded.
"What we teach is what we most need to learn," Yolanda told me during our interview.
I sat with that, awestruck. "What we teach is what we most need to learn," I repeated.
"Yes. I think that I was called to this work because I needed it. I needed it personally, there are members of my family who needed it- we talk about it together. It serves in different capacities in my community, in every area of my life. I talk about it all the time, it comes up everywhere."
This integration of ACEs into Yolanda's whole self is deeply reflected in her style of presentations, trainings, and expertise. When you attend a presentation from her on adversity and trauma, you're not just there to learn. You're there to transform. And she believes this is the core to changing communities through ACEs. This self-transformation is the first step to helping others. After 20 years as an educator, and 15 of them in school counseling, Yolanda went on to step into this work with full devotion. She incorporates the perspectives she learned through decades of workin within school systems, in the hopes of elevating spaces that have not historically been trauma-informed.
Community Agreements
"When I started out [in school counseling], our small groups had group rules. 'Here's what you're not going to do.' Then it changed a few years later to 'Group Expectations.' A little softer, but still telling you who not to be. I now use 'Community Agreements.' I need to ask you the question, 'What is required in this space for you to feel comfortable sharing and being vulnerable?'"
Yolanda creates a Community Agreements with her audience before every
small group. "It's literally an icebreaker. People usually want to say 'I don't want anyone to talk over me' and I teach them to used strengths-based language; how can we change that to a positive statement? How about 'one person speaks at a time?'
Positive language doesn't feel like someone's dictating how you need to show up in the space, but saying together let's create what we all need in order for this to be transformative."
Reaching The Inner Child
Yolanda carries this dedication to creating safe spaces within her programs and trainings, both in working with youth and adults. I deeply admire her range of training expertise and engagement she captures across diverse audiences: children, parents, families, educators, and practitioners. When I asked her about the differences between her youth vs adult trainings, her answer surprised us both.
"If you can establish that safe space, kids talk a lot. There's usually no filter. It's me in their world. I'm not trying to bring them into mine."
This transparency and natural vulnerability that children and adolescents often carry is an incredible tool to transformative and powerful healing. Yolanda and I agreed that the sometimes-limitless flow of storytelling in youth workshops is a rhythm we have to dig deep to cultivate in adult audiences.
"What I'm noticing as I'm making these shifts as a trainer… when I talk to the child in the adult, that's when I get the best results."
We smiled at each other through our zoom screens as the insight from her words lingered.
"When you think about childhood trauma," she continued, "the responses you see in people are really the response of the child they were when that adverse event happened… It's just hitting me as we're talking.
When I started changing parts of the workshop with the adults to be the same as what I do with the kids, that has the most impact on the adults."
Weaving in activities that evoke vulnerability, creativity, and storytelling opens the door to our audiences' inner children.
These icebreakers can include conversational get-to-know-me games, coloring, or a reflective prompt exercise. Though the neuroscience and brain-based aspects of training are important, this breakthrough Yolanda shared gets at the heart of LUV: We all, regardless of age, are wired to learn and heal through storytelling and connecting with each other.
Just as she would in a youth training, Yolanda also incorporates a safety plan in case the material triggers a participant. The nature of trauma trainings requires reflection on events that someone may not have processed yet, or is in the space to sit with in the current setting. Ensuring there's always another space; whether it be a hallway in an in-person workshop, or a breakout room virtually, creating a secondary space for private check-ins and moments of regulation for individuals is critical to ensuring a safe learning environment.
Training to Transform
Connecting to information in a way that demands inner change and authentic transformation fuels a wildfire of healing.
"I have a slide with a light bulb that just says: Insight," Yolanda told me. "Insight is when you hear something or learn new information and it changes the way you think. That's the goal- you've received information, and it should change the way you view the world."
In addition to her work in prevention services, Yolanda is also the owner of Unbreakable Minds Youth Life Coaching. Her business helps guide young people throughout their journey to understanding themselves and the world around them through strong relationships and purpose-driven thinking. This orients her transformation-focused training style and flows throughout all her work in ACEs and trauma.
"What's the biggest piece of advice you would give to someone who wants to create these transformations in their own community?" I asked.
"Make sure you've been transformed. How has what you've learned changed your life? Because that's how you connect. When you're able to tell those stories, that's when you're in a place to create transformation for others."
Yolanda emphasized the importance of taking time to sit with the impacts of ACEs, brain science, and trauma education with yourself first. By identifying the information that speak most to you personally, trainers may harness their own strengths and expertise through their own passion.
"What speaks to me is what I emphasize, because the audience can relate to it. If they take nothing else, they received that piece from me because of my own experience. When people are trained, if they don't feel that connection they probably won't feel called to share the information, and probably won't apply it to their own lives."
She also suggested holding a listening session within your community of the audience you're hoping to reach. By exposing oneself to the lived experience and stories of others, we can in turn reflect on our own self-story, and the strengths we bring to this diverse table of connection.
Yolanda and I agreed that this journey is anything but linear. Insight is a messy practice that involves lots of learning, and in times, even more unlearning.
She wrapped up our interview as jovially as it began, "It's like my pastor says, you know? 'Turn your mess into a message'– End quote!"
---
To connect with Yolanda, please reach out to her at HAL101@henrico.us. For more information on Unbreakable Minds Coaching, please contact coaching@unbreakableminds.org.